Trotting the globe for thoughts, ideas, discussions, the next big thing and often uncovering the bizarre is the discourse of a day in the world of the Urban Rajah. These snippets have been collected to connect you with food for thought.
trendwatching.com | LATIN PULSE | LatAm Trend Bulletin | October 2014
Unmissable innovations – with local trend spotters' insights – that show the future of consumerism in the region.
Read the LATIN PULSE LatAm Trend Bulletin from trendwatching.com »
trendwatching.com | ASIA PULSE | Asia Trend Bulletin | October 2014
On-the-ground buzz around some of the best consumer innovations in the region!
Read the ASIA PULSE Asia Trend Bulletin from trendwatching.com »
trendwatching.com | AFRICA PULSE | Africa Trend Bulletin | October 2014
Seven game-changing innovations from across the continent + spotter insights!
Read the AFRICA PULSE Africa Trend Bulletin from trendwatching.com »
trendwatching.com | BRAND SACRIFICE | Consumer Trend Briefing | October 2014
One powerful question for brands to answer in 2015: what are you prepared to SACRIFICE?
Read the BRAND SACRIFICE Consumer Trend Briefing from trendwatching.com »
TED: Jeremy Heimans: What new power looks like - Jeremy Heimans (2014)
We can see the power of distributed, crowd-sourced business models every day — witness Uber, Kickstarter, Airbnb. But veteran online activist Jeremy Heimans asks: When does that kind of "new power" start to work in politics? His surprising answer: Sooner than you think. It's a bold argument about the future of politics and power; watch and see if you agree.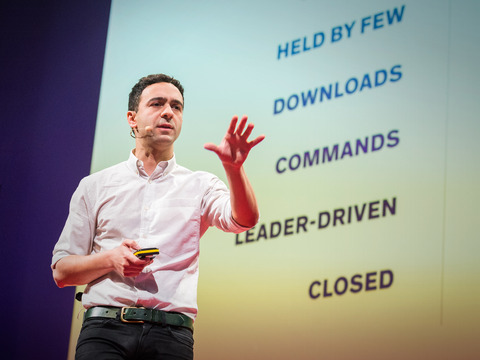 TED: Debra Jarvis: Yes, I survived cancer. But that doesn't define me - Debra Jarvis (2014)
Debra Jarvis had worked as a hospital chaplain for nearly 30 years when she was diagnosed with cancer. And she learned quite a bit as a patient. In a witty, daring talk, she explains how the identity of "cancer survivor" can feel static. She asks us all to claim our hardest experiences, while giving ourselves room to grow and evolve.
TED: Frans Lanting: Photos that give voice to the animal kingdom - Frans Lanting (2014)
Nature photographer Frans Lanting uses vibrant images to take us deep into the animal world. In this short, visual talk he calls for us to reconnect with other earthly creatures, and to shed the metaphorical skins that separate us from each other.
TED: Sergei Lupashin: A flying camera ... on a leash - Sergei Lupashin (2014)
Let's admit it: aerial photo drones and UAVs are a little creepy, and they come with big regulatory and safety problems. But aerial photos can be a powerful way of telling the truth about the world: the size of a protest, the spread of an oil spill, the wildlife hidden in a delta. Sergei Lupashin demos Fotokite, a nifty new way to see the world from on high, safely and under control.